EXTERNAL JOB SEEKING SERVICES & PROGRAMS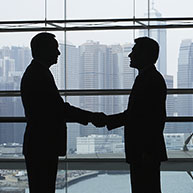 Programs by State of Florida for Injured Workers


A Trusted Resource for Job Search Help in Jacksonville, FL
Are you searching for a job? How about a rewarding career instead? Depend on Momentum Healthcare, Inc. for job search help in Jacksonville, FL. We offer the assistance you need so you can get back in the workforce in a job you love. From providing vocational evaluations to connecting you with companies that are hiring, we have the experience and resources to help you find a job that is perfect for you. Browse some of the external career sites and services below, and contact us if you need any assistance.
Job Seeking Sites
Monster.com
Careeronestop.org
Indeed.com
Careerbuilder.com
Employflorida.com
Simplyhired.com
Programs by the State of Florida for Injured Workers
State of Florida Department of Financial Services
Resume Services
Pomerantz Career Center
The Ideal Job Is Waiting for You
It's difficult to find a job after you've been out of work due to a sickness or injury. If you are a person who has a disability, the prospect of finding a job can seem daunting. Momentum Healthcare, Inc. is here to provide job search help so that you can get back in the workforce. Find a job the easy way by relying on us. Not only do we provide valuable links on this page, but we offer vocational services and one-on-one assistance. We are a leader in vocational rehabilitation and work hard to provide hope (as well as jobs) for those who have acute and chronic injuries or illnesses.
It's Time to Find a Job
Nothing should get in the way if you're willing and able to work. If you've been having trouble finding work, or you don't know where to start, then we can help. Our owner has more than 40 years of experience in job placement, vocational testing, and counseling. There are many jobs available for people just like you. The trick is finding them and interviewing well. Fortunately, we help find jobs for people with disabilities. If you'd like more information about our services, schedule a consultation with us today.
Do You Need Extra Help?
If you are a person with a disability, then it can be especially challenging to find the right employment. In addition to that, you could be dealing with discrimination. Instead of handling the job search on your own, come to Momentum Healthcare, Inc. We provide reemployment assessments, labor market surveys, and job development to get you back to work in the career you want. For instance, if you've been injured and have been out of work for a while, we provide the tools and resources you need to re-enter the competitive labor market.